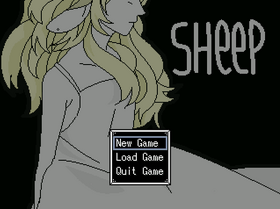 Sheep is a game created in RPGMaker 2003 by "Strawberry Bunny" (real name: Emily) and her development team. Initial development was announced October 2014.
As of May 2015, the previous demo was updated to ver. 1.1 , accounting for small bugs, a new in-game system layout, and various other aesthetic tweaks.
The game is reported to contain strong themes of drug use, child abuse, sexual assault, violence, and death.
From the development blog:
After taking in a runaway girl, Ace Andrews soon realizes that he has gotten into more than he bargained for; the odd girl has a past that is, with every second, getting closer and closer to killing them both.
Will you be able to save them, or will an unknown threat reach them first?
Characters
Edit
| Name | Description | Image |
| --- | --- | --- |
| Sheep | A girl Ace found in the woods. She lives with Ace and has no memory of her past. She wanders around town with very little knowledge about anything. | |
| Ace Andrews | A boy who lives alone. He found Sheep during a late night walk and took her in. He works at a grocery store with Rose. | |
| Charlotte | A landlady who allowed Ace to rent out an apartment when he was homeless. She watches Sheep when Ace is gone. | |
| Rose | A girl who works with Ace and adores Sheep. She is Ace's only close friend. | |
Community content is available under
CC-BY-SA
unless otherwise noted.