"It's an anxious, sometimes a dangerous thing to be a doll. Dolls cannot choose, they can only be chosen.They cannot do, they can only be done by." -Rumer Godden, "The Dolls' House."
You play as Coppelia who finds herself trapped in a mansion with no memory of the past day. At first she remains calm but as time goes on, she realizes that the dolls that litter the mansion are not as innocent looking as before.
However she's not alone in this terror, she is joined by Franz, another innocent trapped in the mansion as well and is her only help to get out of this alive.
So the objective is simple, get out and get out alive. Maybe solve a mystery or two along the way.
Characters
Edit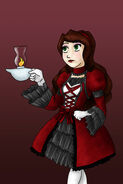 Coppelia
Edit
Age: 19
Occupation: College student/part time employee at an antique resale shop
Our protagonist. Coppelia was just your average college student when she suddenly woke up in a room she did not recognize and to add to the creepy factor, her clothes had been changed as well. Now she searches for her way out of the bizarre mansion and to figure out just what had happened to her.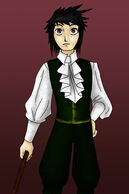 Age 19
Occupation: College student/ part time employee at a flower shop
A boy Coppelia's age that she encounters while navigating the mansion. While scared easily, he is face his fears in the name of escape. He his also a bit of a horror movie buff and applies his knowledge of tropes and cliques to escape in one piece. Not to mention his tendency to make jokes when scared. As much as it is embarasing to admit, he works at a flower shop and enjoys it.
Community content is available under
CC-BY-SA
unless otherwise noted.